I first heard about The Cosmic Forces through my mum. She read it from David St. Clair's Lessons in Instant ESP. This is one of the first books I've read on extrasensory perception or the power of the mind. It is also one of the most practical and simplistic books I have read. I highly recommend this book.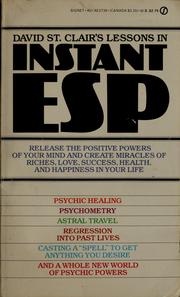 These are some of the things I've achieved with the help of the Cosmic Forces:
a fully-paid international scholarship;
overseas trips;
short holidays
Now for the realists out there I agree that many factors had fallen into place for me to achieve the above. I understand that. But maybe, the Cosmic Forces exercise helped me to get all these factors into place. A slight nudge there, a small coincidence here, these things make miracles!
Okay, now for the exercise.
STEP 1
Stand with your legs slightly apart and your hands hanging loosely at your sides. Your hands should not touch your body, and your body should not touch anything else.
STEP 2
Take a deep breath in and as you breathe in think "I bring the cosmic forces into my body asking for strength, protection, and guidance" Then breath out. Repeat this two times. So you should do this for a total of three times.
I feel something when I do this, like a magnetic force, or a thickening of the air around my hands. You are now on a different frequency level. David St Clair likens it to tuning into a radio station.
STEP 3
Ask for what you want. Don't be formal or scared. Talk as if you are talking to your friends.
STEP 4
Be thankful for whatever the cosmic forces have given you. If it's your first time, be thankful that they are listening to you.
STEP 5
Cross your hands over your chest – Egyptian Mummy style – and say "thank you, thank you, thank you.
Note: It is very important to be mindful throughout this process. Feel and believe in what you are asking for. Concentrate on what "I bring the cosmic forces into my body asking for strength, protection and guidance" means to you. Feel the sensations around your body. In short – be present.
Lastly, believe that what you asked from God/The Universe/Higher Powers will manifest into reality.
Please let me know of your success stories using this exercise, or if you have similar exercises which helped you, by commenting below.
Wishing you lots of happiness.